Uftring Pekin Has 2018 Jeep Wranglers!
Your Pekin Jeep Wrangler Store
Jeep fans, we have new, redesigned Wranglers! That's right, we have 2018 Jeep Wranglers available here in North Pekin at Uftring Chrysler Dodge Jeep Ram. Whether you're looking for an Unlimited, a hard top or a soft top, we have them and are ready to show you around. Have one of our expert salespeople fill you in on the latest upgrades!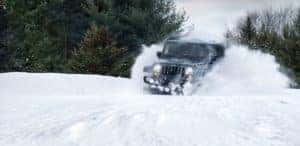 Uftring's Wrangler Updates
The all-new 2018 Jeep Wrangler features a lightweight aluminum material that offers enhanced off-road performance and capability. The lightweight material helps with overall economy as well, but the real kicker is the hybrid option that it comes in. Enjoy the first Wrangler with electronic assist or 'eTorque' as it's labeled.
Aside from the engine and frame, there are some visible exterior upgrades. The classic seven slot grille and original headlights are now closer together and more integrated than ever. This provides a dynamic look to the front of the vehicle that says, "who wants to take this off road?" And speaking of dynamic, what's better than increased visibility? The 2018 Wrangler's windshield is now tilted slightly for more driver visibility and less glare. This will make off-roading all the more safer and more fun. Tired of taking off the hard top? It just got a lot easier with the easy-to-convert panels and spring assisted fabrics. Lighter in weight, better off road. That's what the '18 Wrangler offers.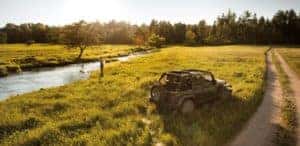 Ready to step your ride up? Visit Uftring Chrysler Dodge Jeep Ram in North Pekin and test-drive a new 2018 Jeep Wrangler!