Uftring Jeep – Take On The Winter
Trail Rated Toughness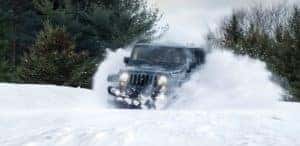 In the midwest, you see a lot of Jeeps. Whether it's a Patriot, Grand Cherokee, or the fan-favorite Wrangler, they all stand out. But why are Jeeps so popular? Maybe it's their unique look or their classic seven slot grille. Maybe it's their array of color options. One thing is for sure, their capability in the winter doesn't hurt the decision, especially in Illinois.
4×4 & Ground Clearance
To have an SUV with the ground clearance that Jeeps possess is nice. But, when you add their 4×4 capability, you're on a whole new level. Jeep's off-road ability and Selec-Terrain® traction control system turns icy conditions into an afterthought. And when you have a range of ground clearance across your models that goes from 8.5-10.8 inches, even the heaviest of snowfalls are no match for your Cherokee or Compass. Why be afraid of skidding and sliding? Conquer that fear in a Jeep this winter.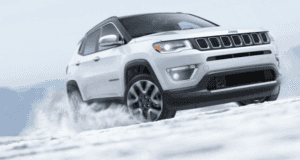 Safety & Reliability
Nothing is more important, especially in the winter, than staying safe. According to CarMax, the Jeep Compass and Patriot are among the top 10 cars & SUVs to drive in the winter. And one thing they boast (along with every other Jeep model) is safety. From their anti-lock braking system to their stability control, you won't worry about a sudden ice patch or wet spot. And with the overall interior protection of surrounding airbags, you'll have peace of mind knowing that you're Jeep is keeping you safe and secure.
It's evident that you'll be ready for snowy conditions in a Jeep. So, make the smart decision by driving one this winter. You won't regret it! Click here to view new Jeep inventory at Uftring Chrysler Dodge Jeep Ram in North Pekin.