The Ram Review with Matt and Duston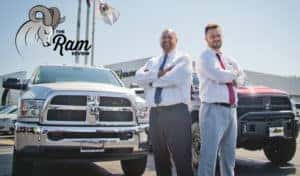 Are you a Ram fanatic? Do you wish you knew more about these full-size pickups? Introducing the Ram Review, a new segment based solely on Ram trucks. Our salesmen, Matt Fuelberth and Duston Griffin, are up to the challenge of informing, comparing, and entertaining using nothing but their knowledge and expertise of Ram trucks. If you're in the market and looking for a new full-size pickup, let our Ram experts fill you in on what you'd like to know.
Every episode, you can expect to learn something new about your preferred choice of pickup. Matt and Duston will conduct walk-arounds of new models or special editions. They will also touch on their favorite features and the parts you wish to learn more about. And they will even answer some of your direct questions based on your comments and suggestions. But, that's not all! These rowdy Ram experts will even show you some at-home applications and "Do It Yourself" tips to save you money. You will learn more and more about your Ram week in and week out.
If you drive a Ram, then you're going to absolutely love "The Ram Review" with Matt and Duston. Learn more about new features, become acquainted with amazing capabilities, and enjoy hearing stories of other customers and of your Ram experts themselves! Whether you use your Ram to farm, to haul equipment, or just to get around, "The Ram Review" is the show for you.
 Episodes