Three New Updates On Ram's Harvest Edition Trucks

America needs farmers – farmers need Rams. Introducing the new Harvest Edition Rams, soon to be available at Uftring Chrysler Dodge Jeep Ram in Pekin. Peoria, Morton, Bloomington, and Galesburg all have an overwhelming presence of farmland and farmers. Ram is reminding them where they come from. These agriculture-oriented light and heavy-duty trucks are designed specifically with farm families in mind. Here are three new updates that will surely help get the job done come time for harvest.
1. All-Terrain Tires and A Spray-In Bed Liner
You aren't just coasting on the open road when tending to your crop. You have bumps, hills, dirt, and mud to deal with on a daily basis. Not only that, but you have all sorts of equipment in that bed behind you.
These all-terrain tires will overshadow the rough and tough land and make for a much more smooth ride. And the spray-in bed liner will provide protection from the heavy tools, equipment, and sharp brush, keeping your truck looking as good as new at all times.
2. Side Steps – Bumper Steps – Mud Flaps
With the massive workload and ever-changing environment, these features will be your shoulder to lean on come harvest season.
The side and bumper steps will make loading and unloading inside the bed all the less stressful. Is there a hard to reach gallon of gas? Can't quite get to that hard rake? The conveniently placed steps will provide easy reach and access, allowing the job to go smoothly with no unneeded interruptions.
The Mud Flaps will take the wet, harsh terrain and put it in the rearview, literally. No more slick steps or annoying mess.
3. Two New Colors
Your requests have been fulfilled! Two new colors are now available on the Harvest Series Rams: New Holland Blue and Case IH Red.
We understand that variety and style are still alive when farming. These new colors will allow you to stand out while you work hard.
Alongside the new colors, several two-tone options are available for your wheel flares and trim accents. Bright White, Bright Silver, and Brilliant Black are the color schemes available.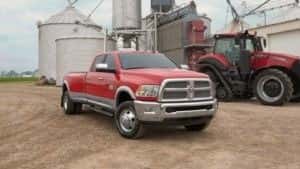 The new Harvest Edition Rams are available on 1500, 2500, and 3500 series. So, whether you're loading equipment or you're hauling combines, you'll have available models to choose from. Pick up a new Harvest Series Ram just in time for the season, soon to be available at Uftring Chrysler Dodge Jeep Ram in Pekin. Shop for Ram trucks here.