2018 Chrysler Pacifica – Uftring Pekin
Better Than the Rest
The 2018 Chrysler Pacifica both claims and proves to be more than a minivan. After being on the The Car Connection's list of Best Cars to Buy in 2017, it's only gotten better. Compared to the Honda Odyssey, the Pacifica outranks in categories such as style, price, and overall economy. Although both the Honda and Chrysler match up in MPG, the Pacifica features a hybrid option.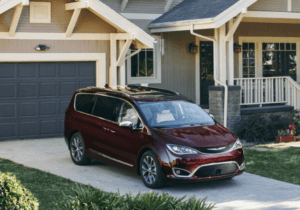 More Than a Van
This new versatile van has a unique look about it. Although you can tell that it's a van, some exterior features make you look twice. Its slim frame and split grille give off a look similar to an SUV while its lights and roof rails strike resemblance to a Sedan. One thing is for sure, once you're inside, you'll know you're in a Pacifica. Whether you're storing or sitting in a Pacifica, you'll have ample room to do so. The "Stow 'N Go" functionality of the back seats proves to be quick and easy for any job. By simply sliding the second row both back and down, you turn the whole rear into a flat surface. So, you can store everything from ladders and paint jugs to bikes and bags. And when the seats are up, no matter where you're sitting, you have plenty of space to sprawl out. No more crammed rides with the family!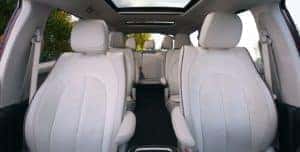 Keeping it Simple
The name of the game for the 2018 Chrysler Pacifica is user-friendliness. The UConnect® Infotainment system provides navigation, entertainment, communication and more at the push of a button. And since you're focusing on the road, have one of your passengers connect their phone. It's as easy as if you wanted to.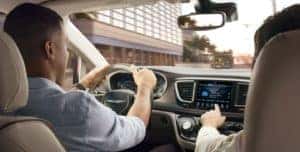 Superior Safety
The 2018 Pacifica's crash-prevention systems are the reason you have such peace of mind behind the wheel. From the blind spot/lane departure monitors to rearview cameras, it's almost as if there's two drivers. And should an accident be unavoidable, the overall safety of the vehicle is fantastic. Its crumple zones absorb most blows while the surrounding airbags and seat belts keep you in place. All of the safety you want out of a car is in the all-new 2018 Pacifica.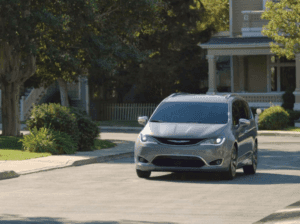 Be Apart of the Best-In-Class
If your family is growing and your car can't keep up, make the switch to 2018 Chrysler Pacifica – it's more than a van! Stop by Uftring Chrysler in Pekin today and test drive one of these versatile vehicles.